Source: Connect with Art.
Millennials may be most widely known for their social media-savvy ways – the leading generation of the tech revolution – but they also make up the largest consumer group of today's era. These very buying habits are sweeping the art world and making an impression as some of the most significant collectors of the future.
Over the past 5 years, the art market has witnessed a dramatic shift. Artists and art businesses alike have to quickly adapt their strategies to cater to these young, powerful collectors.
BORN BETWEEN THE 1980S AND LATE 1990S…
Millennials have been said to spend, on average, more than 30 hours a month on social media sites – and with Instagram continuing to shine as the art world's favoured social platform, it's no wonder that this demographic is starting to get wise to the nuances of art buying.
According to the Hiscox Online Art Trade Report 2019, 80% of art buyers go to Instagram to discover new artists and pieces of art that are available to buy. Yet 23% of millennials had never bought an artwork in a gallery, auction, or fair prior to buying art online. Staggeringly, 79% of millennials said they had purchased artwork online more than once within the past year.
This propensity to spend through digital channels means that the online art market is starting to play an important role in educating and introducing a new generation of buyers to art collecting. The past year has been a glowing example of that. Many of the large auction houses and galleries have introduced online buying practices as businesses adapted to the pandemic-struck art world, with a larger segment of art fans adopting the embedded attitudes of millennials.
THE CULTURE OF ONLINE ART
The culture of online art is continuing to attract younger buyers. It is working on expanding audiences – due to the global accessibility of online platforms, a larger cross-section of art fans and buyers can be reached – even those who were not perhaps traditional art aficionados.
With typically less capital to spend than older generations, millennials are also serving the emerging artist market. More likely to invest in lesser-known artworks that are more weighted towards the expression of values or ideals, millennials broaden the exposure for emerging artists and use social media as a platform for direct communication and negotiation.
Drawn towards contemporary work, younger art buyers also gravitate towards more unusual mediums and materials, with more inclination to take risks and invest in digital works and new media.
In recognition of the rising art scene among younger generations, global art advisor Ed Tang, who has nurtured numerous aspiring patrons through his work at auction houses including Sotheby's, Christie's and Phillips over the last decade, has joined forces with collector Jonathan Cheung on a new consulting venture. Despite only being in their early-30s, the duo has identified a clear market to support collectors who may have less prior knowledge of the art world, providing exposure and advice for those with less experience. Their sweet spot is Asia's millennial generation, deemed as the market's 'holy grail'. Tang describes these collectors as being "like sponges, absorbing all the information very quickly and seeing the value of having people advise them through it."
Ed Tang and Jonathan Cheung © Victoria Tang-Owen
The appetite for the millennial market has been driven by entrepreneurial leaders in the art world, such as Maria Baibakova, who made a name for herself as a young art investor in her early-20s. She founded Baibakov Art Projects in 2008, a not-for-profit organisation that promotes Russian contemporary art and contemporary art initiatives in Russia. She has a firm commitment to supporting women artists, not least through chairing the Artemis Council at the New Museum, New York, which she established in 2016 and has helped fund exhibitions on Lynette Yiadom-Boakye, Carol Rama and others. Further institutional roles include a trusteeship at Barnard College, where she founded a scholarship for women studying art history. She is an avid collector and investor, and her own collection includes works by Cindy Sherman, Christopher Wool and Franz West.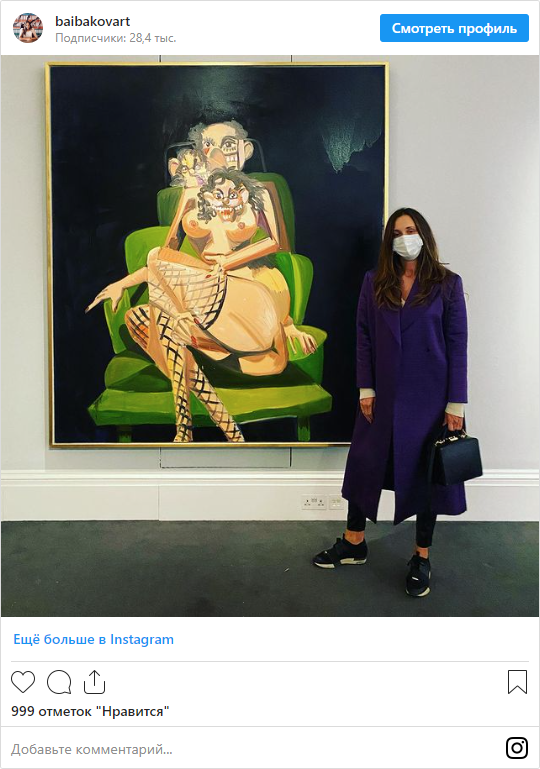 Similarly, London-based Eugenio Re Rebaudengo is a young collector keen to shape contemporary taste rather than be led by it. He started collecting art in his early-20s, concentrating on young and emerging artists. He is the founder of ARTUNER, a business that mounts curated displays online and pop-up exhibitions in cities including London, New York and Turin – with the focus on emerging artists. Re Rebaudengo is the son of the renowned Italian collector Patrizia Sandretto Re Rebaudengo and sits on the board of her contemporary art foundation in Turin.
Eugenio Re Rebaudengo
This tech-savvy generation is transforming the art landscape and how art is discovered, consumed, and bought, and it marks the start of what could be a gravitational shift in the art market. Bringing new behaviours, habits and attitudes to the art scene is only harnessing a healthy new segment of society, opening up interest across younger generations, creating an investment, and supporting lesser-known artists across the globe.
Influencers, move over. It's all about collectors.