Source: Artland.
This article explores the dynamic world of the contemporary art market under the influence of the new generation of art buyers. The new art buyers, popularly called 'Next Gen' collectors, are continuously reshaping and restructuring the established format of the traditional art marke.
A new generation is actively using technology and social media to acquire, showcase and sell their collections. They perceive art as an extension of their personal brand and, compared to their forerunners, theirs purchasing practices are more dynamic and transparent.
Below, we will dig deeper into the demographics, artistic taste, and buying practices of the Next Gen collectors and explore the implications they have on the ever-changing art market. This article is based on the most recent art market research. Data is sourced from the Hiscox Online Art Trade report 2020, The Art Market 2021 report by Art Basel & UBS and The Next Gen Collectors report by Larry's List.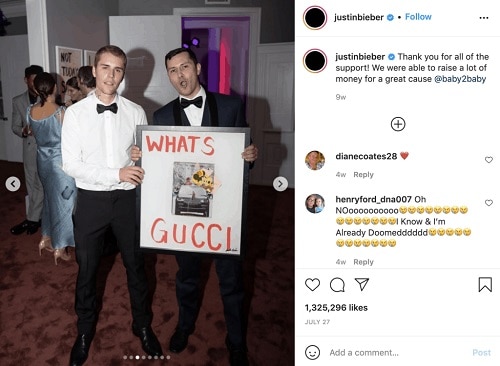 Who are Next Gen collectors? 
It is quite a challenge to put a solid demographical frame around the Next Gen collectors. However, they can be loosely defined as a group belonging to either generation Z, Millennials, or generation X collectors who are actively participating in the art market by buying or selling artworks. Geographically, they are mostly located in the US, Europe, and Asia with New York, London, Seoul, Beijing, Shanghai, and Hong Kong as the central hubs.
Wealthiest then ever
The wealth of the Nex Gen is both inherited and self-made. The Art Basel & UBS report (2021) describes how it is predicted that the millennial generation will inherit between 20 and 70 trillion dollars in wealth and assets by the year 2030, becoming the wealthiest generation so far, considering that the boomers had fewer children on average than their parents. On the other hand, there is a growing number of self-made millennial billionaires as a result of the rapid growth of industries relating to tech, energy, and real estate. Young art buyers mainly acquire artworks as a form of investment, which was also confirmed during the pandemic. As Art Basel & UBS (2021) reports, 30% of millennial collectors spent over $1 million on art and collectibles during 2020, compared to only 17% of boomers who ventured into acquiring artworks during the crisis. This current state of the market shows that we will probably witness further growth of the art industry in the following years.
What kind of art do Next Gen collectors like to collect?
When it comes to the taste of Next Gen collectors, painting and sculptures are still preferred art mediums, even though their interest in digital art and NFT's is on the rise (Larry's List 2021). They appreciate and collect blue-chip art with popular names such as KAWS, Warhol, Banksy, Hirst, Basquiat, and Hockney. Nevertheless, they are also open to welcoming works of emerging artists in their collections. Especially if their work relates to the collectors' personal believes and lifestyles.
It's all about personal branding
For the Next Gen, art ties strongly with personal branding. Because of technology and social media, collectors have a chance to be more transparent about their collections and it is important that art speaks for them. Collectors are attracted to art that not only relates to their aesthetic but also brings certain social value. Remembering the popular saying  – art is the reflection of the world or its semantic variations, describing art as the reflection of emotions, values, society, or culture, explains why collectors care so much about the representation their collection has for their personal brand. It can be climate change, racial injustice, gender inequality, or any other cause they feel passionate about, Nex Gen collectors really care that their art collections are in line with it.
Larry's list (2021) has conducted in-depth interviews with a couple of young collectors and asked them about the importance of networks and relations to artists. Most collectors agree that knowing the artists personally and understanding their perspective makes them like the artworks even more. In particular, Oleg Guerrand, an art collector located in New York, reflects on the importance of meeting the artists:
"I try to meet and interact with artists all the time. I am always trying to pick the brains of artists. I have had some incredible and unforgettable experiences and conversations with some artists. Whenever I get access to a studio, I am like a kid in a candy store, I am so very appreciative and never take it for granted. I prefer being around artists than dealers…."

Oleg Guerrand (Larry's list, 2021)
In sum, Next Gen collectors still mostly enjoy traditional mediums but, compared to the previous generation of collectors, they like to keep their collections transparent, mostly in a digital format and, partially, by opening exhibitions spaces. Because of transparency, collectors see artworks as the extension of their personal brand. The new generation likes to engage with emerging artists and buy woke art that relates to their personal beliefs.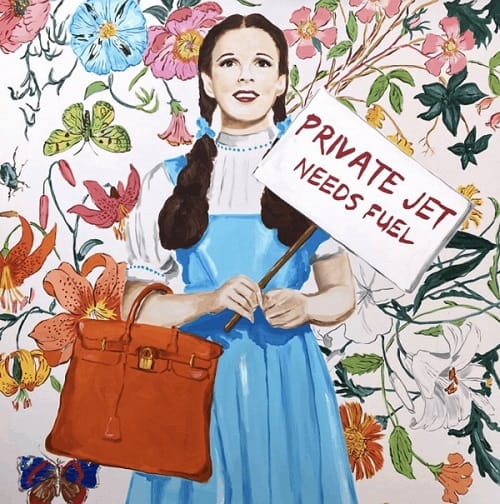 How are Next Gen collectors buying art?
Already in 2014, Olivia Fleming wrote an article for Vogue titled Why the World's Most Talked-About New Art Dealer Is Instagram? where she explores the implications of new media on the art market and buyers' practices. She uses the example of the Instagram art phenomenon Ashley Longshore, the artist who managed to overlook the traditional structures of the art market and successfully sell her artworks directly through Instagram. Since then, the digital art trade has evolved immensely. Instagram is still the most widely used social media channel amongst art buyers as reported by Art Basel & UBS (2020), but there is a growing number of online platforms, marketplaces, and autonomous galleries that are using advanced technology to showcase the artworks online.
Art and tech
Next Gen collectors like to buy things online. E-commerce activities are on the rise in recent years, additionally boosted by the global lockdowns caused by the Covid-19 pandemic. The necessity makes people adopt change and novelty faster and e-commerce is a valid example. In this type of environment, it is no wonder that the new generation of art collectors would embrace buying art online so easily. Certainly, technology plays a big role in this transition. Tech companies are fast evolving and designing a variety of ways to present and sell artworks online. 3D online galleries, extended reality, and similar features have become extremely popular amongst the new generation of art collectors. Thanks to technology, buying artworks online is closer to reality than ever. It is simple, fast, and secure  – which makes young art buyers willing to purchase even at higher prices online (Art Basel 2021).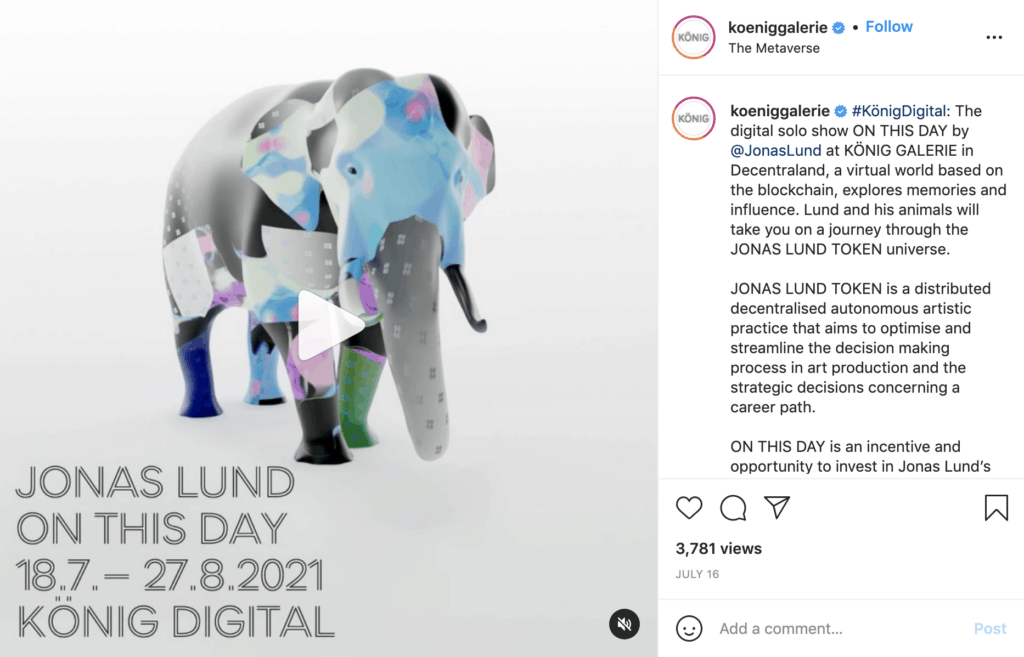 How is the market adopting changes?
The traditional art industry needs to embrace the changes and new technology to stay relevant amongst Next Gen collectors, either by building an independently strong online presence or by joining one of the online platforms with the established community of art buyers. In the Hiscox report (2020), it is predicted how it is likely that an outsider such as an existing company or a start-up with superior technology could disrupt the art and collectibles market. The intuitive and transparent trading environment could be what it takes to attract the Next Gen (Hiscox, 2020).  Another crucial factor for the Nex Gen collectors is price transparency. Online art marketplaces tend to keep prices more transparent compared to the exclusivity of the traditional art market where prices of the artworks are kept in the private dialogue between dealer and buyer, making it a more appealing alternative.
The hybrid model
The apparent question coming out of this discussion is the following: what is the position of the traditional brick-and-mortar galleries in the immense world of the online art market? Most of the art collectors, including the Next Gen, agree that seeing artworks in person is still better than seeing them through the screen. Having a physical space brings an additional value to galleries and buyers will likely visit it before making a final purchase, if they have a chance (Art Basel, 2021). Buying art, just like other luxury goods is oftentimes a long-term process and much of the research goes on up to the point of making a purchase. The hybrid business model that combines a strong online presence with a physical space seems to have a potential for success. Galleries and art fairs have been embracing the hybrid model in recent years, and the ones with already established online presence showed much better performance during the pandemic.
Conclusion
The art market is not immune to changes in social and political streams, trends, and technology, and the Next Gen collectors and artists are the ones driving the change. It is likely that we will witness more of the digital side of the art world where online marketplaces will dominate the industry. Digital representation of the artworks and online sales will break the geographical boundaries and allow for an even bigger expansion of the market. As for art, it will undoubtedly keep on reflecting the world, either physical or digital.