Source: CNN Style.
The art world has always debated where it falls on the spectrum between pleasure and politics. Do we really want art to challenge us with the conflicts and threats we find in the news every day?
Henri Matisse famously declared that he dreamed of an art "devoid of troubling or depressing subject matter … a soothing, calming influence on the mind, rather like a good armchair." His close friend Picasso, who more often indulged the darker sides of human emotion, wasn't especially political in his art either.
Nonetheless, in the mid-1930s, during an urgent rush of creativity, the latter painted a dramatic mural-sized protest over the bombing of Guernica in the direct black and white tones of a newspaper. The political directness of his "Guernica" (pictured above) may have been inspired by the revolutionary attitude of his Mexican friend Diego Rivera, or the politically charged paintings of his historical compatriot Francisco Goya's famous series, "Disasters of War."
The painting is an obvious example of how aesthetics and protest are not mutually exclusive. Picasso showed that painter and painting could be both.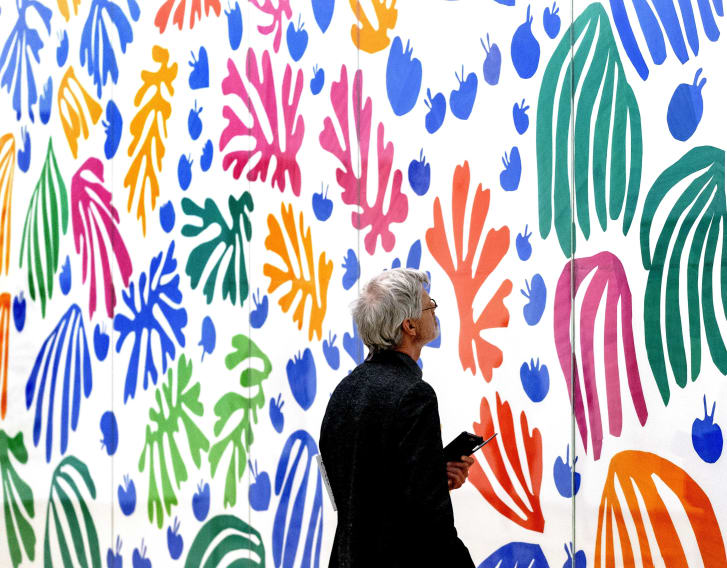 A visitor examines "La Perruche et la Sirene" by French artist Henri Matisse at the exhibition "De Oase van Matisse" at the Stedelijk Museum Amsterdam in 2015. Credit: SANDER KONING/AFP/AFP/Getty Images
The art world has always debated where it falls on the spectrum between pleasure and politics. Do we really want art to challenge us with the conflicts and threats we find in the news every day?
If it does so, contemporary political art risks preaching to an audience comprised of a small, well-educated liberal elite that is already aligned with its message. Arguably, this art will then become complicit in feeding on the same market and power structures whose hands it bites.
Is it unfortunate that a few high-profile transgressive images can spoil a government's appetite for art that might be described as simply beautiful, inspiring or educational? Maybe. Or maybe not. Are Ai Weiwei's artistic provocations a threat — or more like a Socratic gadfly nibbling at the state to rouse it into becoming its better self?
The responsibilities of art
At LACMA (the Los Angeles County Museum of Art, where I serve as director), you'll find plenty of examples of contemporary artists addressing our political era's most pressing issues: Alejándro Iñárritu's new and beautiful VR installation that engenders empathy for the plight of immigrants; a huge and seductive painting by Mark Bradford that calls out the injustices perpetrated by U.S. police against African-American men; or a spectacular mural by Barbara Kruger that, if not strictly protest art, is certainly pointed in its cry for greater awareness of what a capitalist consumer culture portends.
"CARNE y ARENA" (2017) by Alejandro G. Iñárritu. Credit: Courtesy of LACMA
Having said this, many of us gravitate toward art, or art museums, not for politics or protest, but for the type of comfort Matisse sought. We may even use art to find solace in an unstable and sometimes threatening world. The people waiting in lines outside every museum that has hosted Yayoi Kusama's recent traveling retrospective were seeking (beyond Instagram moments) pleasure and wonder in trippy, brightly-colored, literally glowing, immersive environments. And why not?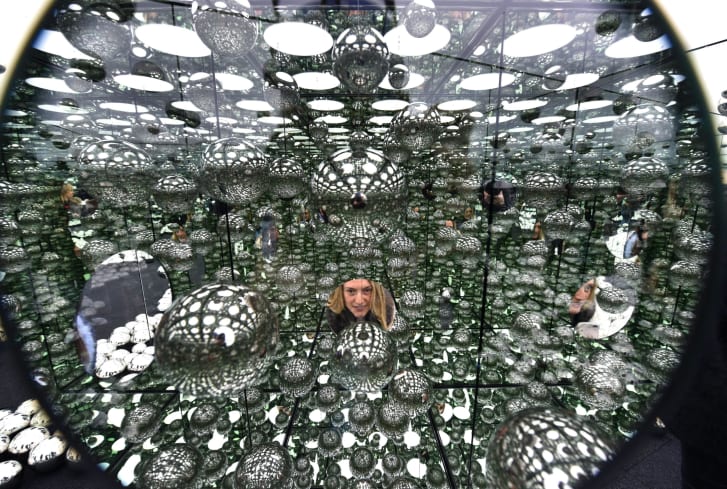 "INFINITY MIRRORED ROOM: LET'S SURVIVE TOGETHER" (2017) by Yayoi Kusama. Credit: TIMOTHY A. CLARY/AFP/AFP/Getty Images
Consider also, however, that the pursuit of pure beauty can be more political than we think. Artists are always citizens of somewhere. They are also human, and thus carry the same responsibility that most of our politics, religions and philosophies suggest: that we should improve, not diminish, our lives and the world we inhabit.
The principles of aesthetics aren't at odds with social and political responsibility. To use another example from LACMA, Chris Burden's bright and iconic "Urban Light" sculpture at the museum's entrance may have inspired more playful pictures on social media than any other major artwork in the world, but it has its own politics. The artist himself saw his composition of 202 historical street lamps, made a decade ago, as a statement about what constitutes a sophisticated society: "safe after dark and beautiful to behold," as he put it.
"Urban Light" (2008) by Chris Burden. Credit: Courtesy of LACMA
An ongoing debate
The art world is far from consensus on the relationship between art and politics. Indeed, the lineup of artists discussing this very topic at an Intelligence Squared event in Hong Kong this week exemplifies the diversity of opinions on how — or even whether — the two should interact.
Does art have the power to bring about real change? Intelligence Squared will explore the topic in an upcoming all artist panel, which will feature Olafur Eliasson, John Gerrard, Lu Yang, and Shirazeh Houshiary. Credit: Courtesy of Intelligence Squared
Similarly, Icelandic-Danish artist Olafur Eliasson has, in addition to numerous installations addressing climate change, founded a project that produces and markets inexpensive solar-powered lights for the developing world — encouraging awareness and taking action at the same time.
Great art has, through time, been made in many guises. It has been made as protest and as propaganda, made to disturb and to sooth, made to question and to express. Our increasingly globalized media-driven world brings us closer to many people's struggles; it also brings us stories, and beauty, from everywhere.