Source: Widewalls.
Every generation has an impact on the way that art is consumed and transacted. Millennials are no different. Should we care? The answer is an absolute yes.

As the largest consumer group, the whims and preferences of Millennials are impacting the art market, and will continue to do so in the future. Some common behaviors among Millennials include using social media, valuing the views and opinions of their peers, and often rejecting what older generations valued in terms of consumer choices. Their use of technology is interwoven into their daily lives.
So, how do these tendencies impact how they transact in the art world?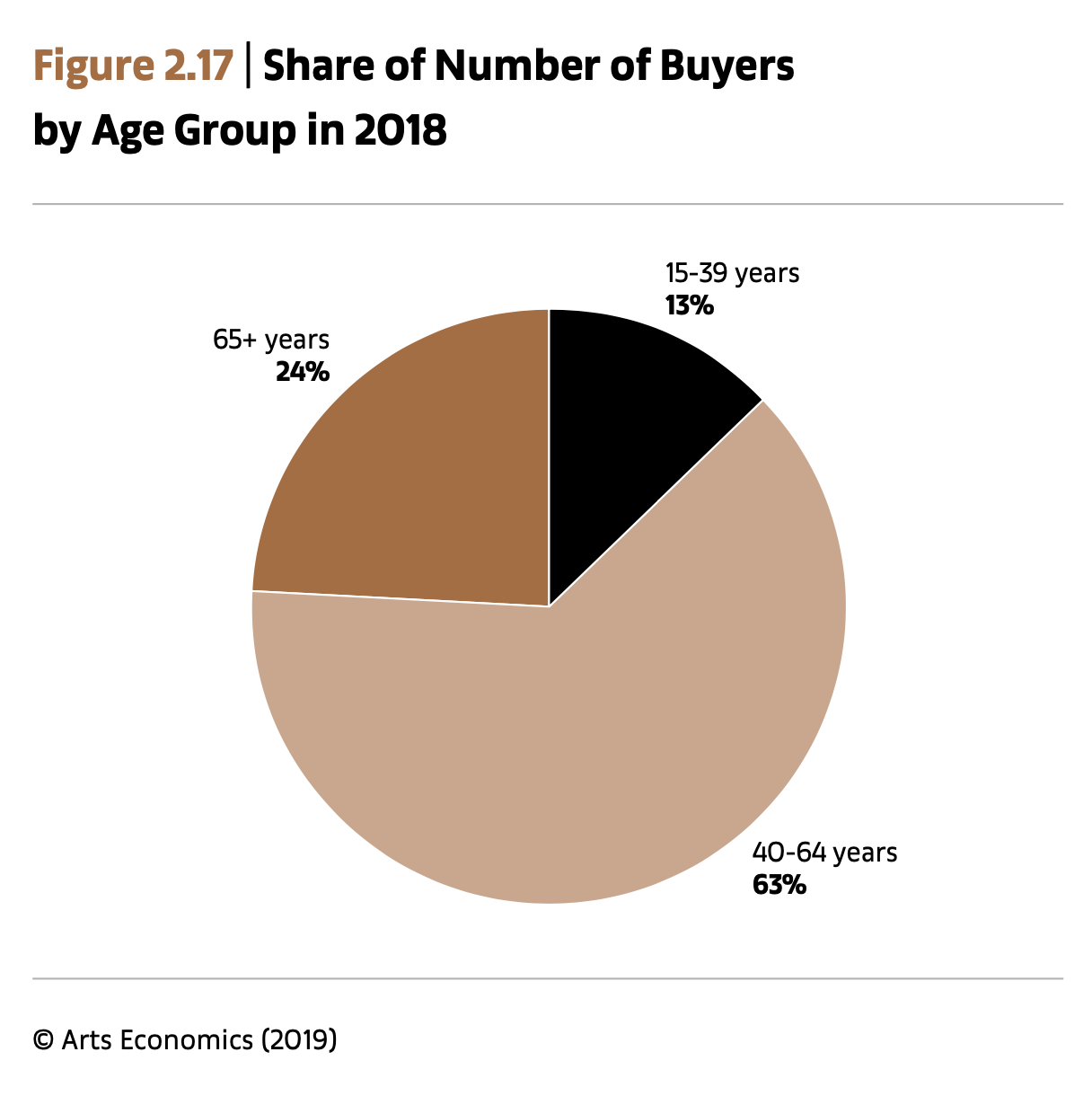 Millennials Often Value Experience Over Objects
Millennials are known for seeking out experiences more than they are known for purchasing objects. At the same time, they also prefer to showcase their personal styles and individuality in work and living spaces. As a result, Millennials seek out art that connects with them on a personal level. They also tend to seek out artists with whom they relate on a personal level.
One particular experience that Millennials value is that of discovery. Think about music that was popularized for Baby Boomers and members of GenX. Members of those generations mostly consumed and valued music that was carefully curated for them by record and radio station executives. Yes, there were exceptions to this (e.g. the punk movement or the college rock scene), but the general truth remains.
Millennials and members of GenZ consume music much differently. They peruse YouTube for unknown artists, attend local shows, swap Spotify playlists, and generally reject the notion that radio executives are best suited to tell them what to listen to.
Likewise, they enjoy the process of discovering visual artists as well. To do this, they use technology, connections through friends and associates, and social media to find and connect with artists, galleries, and industry experts. This puts Millennials in the unique position of often discovering fine artists early in their careers.
Millennials Are Still Buying Art in Person
Given their affinity for technology and the tendency to shop online, one might assume that Millennials were mostly shopping for art that way as well. That's not an outlandish assumption, but it is incorrect. It turns out that Millennials are purchasing art offline as much as they are online.
This trend can be largely attributed back to Millennials' valuing experience. Millennials attend local art fairs, spend time at local art galleries, and patronize other events. These are places where they can see original works by up and coming artists, engage in conversations with other art fans, perhaps even connect with the artists in person.
At the same time, there's no denying that the internet plays no role at all. It certainly does. Millennials do seek out art online. Many platforms recognize this, and offer opportunities to browse and purchase art. Sites like RedBubble and Etsy were formed with the purpose of facilitating the sale of original works online. Visual social media platforms like Instagram now provide users with the means to make purchases directly. Finally, many art galleries and artists have opened online stores to appeal to those who wish to buy art online.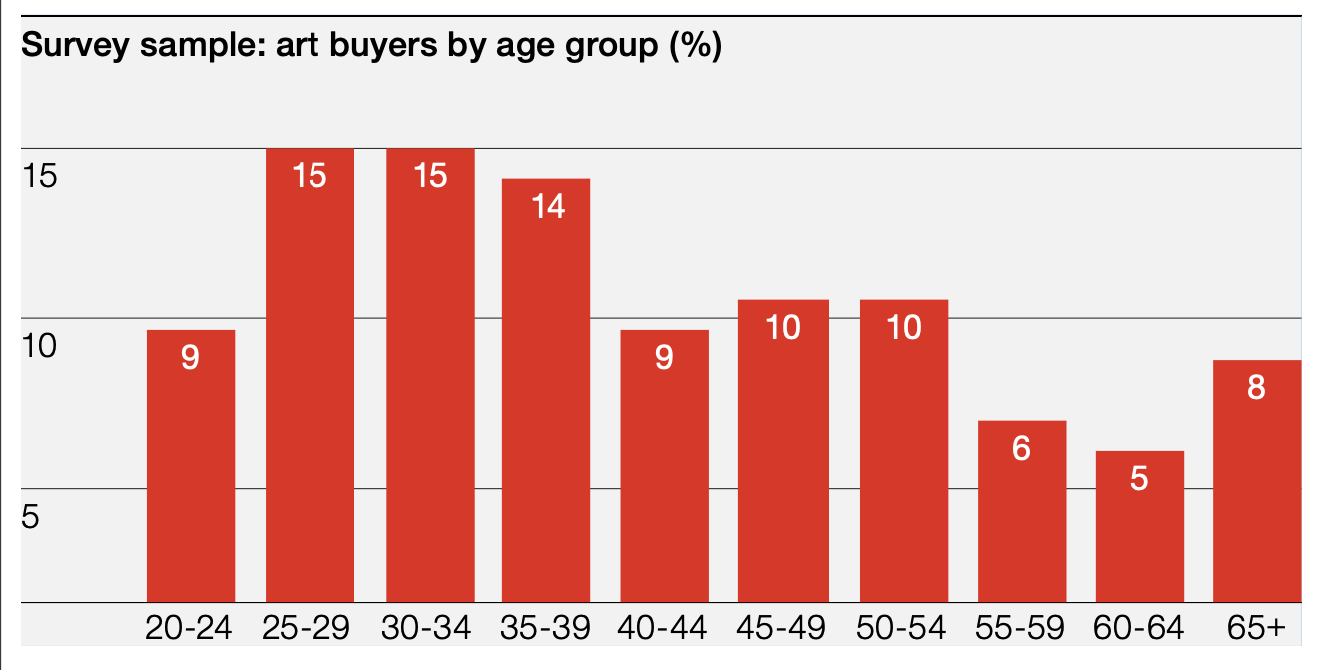 Millennials Have Less Money
When you compare Millennials to members of previous generations of the same age, they tend to have less money. This may be attributed in part to the fact that this generation is staying in school longer, and entering the professional workforce later.
Whatever the case may be, these financial differences combined with cultural differences between the generations means that Millennials are less likely to spend big money on upper echelon, 'big ticket' art items. New York gallery owner Ellie Rines notes $500 to $700 dollars as a good entry-level price point for Millennial art consumers.
Social Media Plays a Big Role in Art Consumption For Millennials
Millennials' use of social media to find art and artists that interest them has been mentioned above. However, this deserves a deeper dive. Because they aren't just using it to find art, they are using it to make connections in the art world, and to find artists and brokers who have stories that resonate with them. Millennials also use social media to find artists and galleries with values that align with theirs.
Millennials will also use social media to 'signal boost' artists they value, share about art events, and provide their own thoughts on the art they have discovered. They also value the opinions of artists and art experts. They will follow these influencers' blogs and social media accounts. The result is a more democratic approach to the art business.

Millennials Are Supporting Artists Through Alternative Means
Millennials aren't just supporting artists by purchasing their products. They're also funding visual artists through platforms like Patreon. There, contributors or 'patrons' contribute a monthly pledge to help fund artists that they support. Artists can link their Patreon pages on social media and their websites. Their followers can then follow those links where they can choose to contribute in exchange for access to online content, videos, blog posts, even art giveaways.
This is a great option for Millennials who may not have the wealth to buy pieces of art. It also gives those who want to support art without having to store it the means to do so. Platforms like Patreon also support Millennials' desire to engage with artists more directly.
Final Thoughts: What Are Millennials Buying
For the most part, Millennials are leaning more towards contemporary art. They tend to eschew classic guidelines when it comes to valuing art. Instead, they seek out artists that are relevant to them. They value art made from recycled or sustainable materials. Millennials also value digital and performance art.
Smart art sellers are now tweaking their approach to appeal to Millennials' preferences. Many are featuring more pieces for under $1000. They are setting up online galleries. They are incorporating social media into their marketing. Finally, many are focusing on more art by emerging artists and minorities.
Written by Bridgette Hernandez.